boutique cosy family run highton restaurant that serves great thai food online pick up and delivery though eat appy tuesday through saturday.
FOLLOWING THE ORDERING ONLINE TRENDS
Today its all about convenience and simplicity.

download the "eat appy" app

 receive  updates about your order progress

notify you  when to  collect or when its on delivery so its still hot

receive special offers and discounts

free time up for the family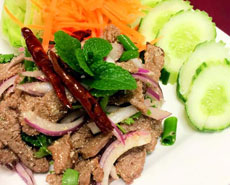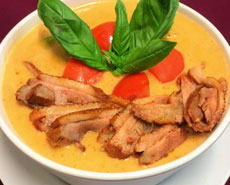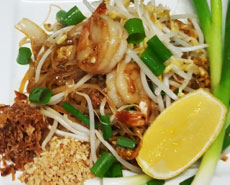 our history
---
The Head Chef Wanida comes from Nakhorn Ratchasima province in central North East Thailand where the influence is the more Spicy lao and Khmer in style. Although out in Australia for 28 Years. She knows that Thai food has to be consumed in a leisurely manner with good friends, that is why it is prepared for you on your order.
Wanida worked as a chef in Central Melbourne, Torquay and owned Thai Mekong in Ocean Grove for 9 years before opening here.
Her skills have been passed onto all her children, who also work at 9 kings ensuring consistency in every dish we make.
what we do
---
Family run business making great Thai food that can be eaten in our boutique comfortable family friendly atmosphere with options to cater for gluten free and food allergy concerns.
We also offer Take-away (Tuesday through Sunday) and can deliver after 6.15 (Tuesday till friday) after 6.00 on saturday
and Sunday
minimum order delivery $35 $5 delivery fee
Delivery areas over Highton Ceres Waurn ponds Belmont Geelong west and
Newtown
Please note Times for delivery and pick up are indicative only. Were often able to have your order ready earlier than the time requested and love to keep you in the loop so you know exactly when your food will ready. On Friday and Saturday we reccomend ordering early.
opening hours
---
Open Tuesday to  Sunday
Tuesdays to Thursdays
from 5:15pm until 8:30pm
Fridays to Saturdays
from 5:15pm until 8:45pm
Sundays from 5:15pm until 8:30pm
byo wine only
RECOMMENDED WINE PAIRINGS 
Wine folly makes the following suggestions
Best Option: Riesling
If Thai cuisine is all about harmony, a nice off-dry Riesling is a welcome addition to the chorus. It's almost too perfect: dynamite tropical fruit flavors with acidity and sweetness to cut the spice. There are even some Rieslings that feature jasmine in their bouquet! Plus, if you're sensitive to heat, the low ABV will ensure the fire doesn't get too out of control.
Great Alternatives
So, you're still anti-Riesling. (You'll get there if we have anything to do with it!) Fortunately for you, there are plenty of dank alternatives, both geeky and prevalent for pairing. There are even a few reds that work well if you're not all that into white wines.
Pinot Gris/Pinot Grigio

A viable alternative to Riesling, Pinot Gris has less-intense tropical fruit flavors and more subtle acidity. Seek out one from Alsace for spice notes of clove and ginger, as well as a long, tingly finish.
promotions
---
Have your birthday on us! You get to eat free in the month of your birthday.
All you have to do is prove your birthday to claim your prize.of a free meal
kids eat free on Tuesday!!
for kids under 13
free Entre
1/2 size Main meal
(except seafood)
See more promotions, click here
JOIN OUR BIRTHDAY CLUB
TO GET A FREE MEAL IN THE MONTH OF YOUR BIRTHDAY
4 Porter Ave, Highton VIC 3216